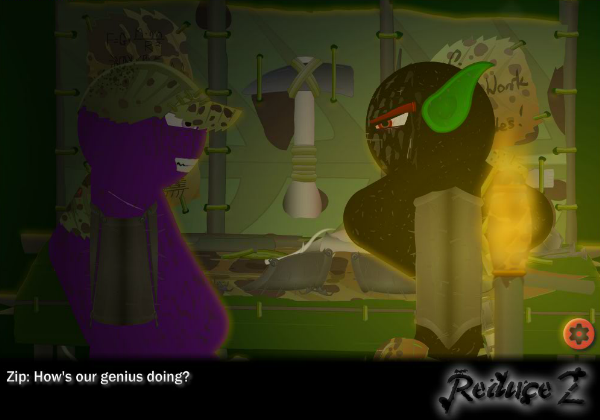 Welcome everyone!
First thing:
What's up with you? How's life? All good? You ask what's up with me? :P Yes, I'm working on something all the time! I had a bit of stress because I was waiting for the summary of my work in the new company - but it turned out that everything was ok. I got a contract for an indefinite period! Hope you're doing well too! Great people from newgrounds! Let this portal exist forever! And remember... FLASH WILL NEVER DIE WHILE WE'RE ALIVE!
Main thing:
Yes! Another progress in animation / design - Reduce 2: Pass of Time - Part II! I admit that I didn't have to create a lot of new elements, but I had a lot of work with the animation / character movements because it was quite a long scene - 95.5s! Pretty long, right? This scene focuses on the relationships of the characters and their twisted characters XD. Ah, those jokers! Yes! This scene contains humor - after all, the title says so! Hehehehe :P My dear crew - watch and tell me what you think! You will find it in: ''Your Projects' > click on Un-Published Project - Reduce 2: Pass of Time - Part II > click 'Preview' button in project option.
Extra thing:
Congrats to @Cyberdevil! He presented the first version of a great track - consisting of music by @ChordC entitled: 'Ripples on the Ground - Instrumental' and vocals from great artists such as: @Cyberdevil, @hania and @jabun! Ask on PM @Cyberdevil (it's still unofficial version) and if you're polite, maybe he'll give you a link :P Officially, I would like there to be two versions - one as requested by the artists themselves (because it is their work) and the other that I can use in animation. Of course, the original cannon will also be available in our animation / project - Reduce 3 (another great project for Reduce 3! In total there will be - 22 projects for the 3rd season!). Playlist! Well, I think the music is too loud for the vocals. Cool, it's all in the hands of the artists - if they don't mind!
Postscriptum:
According to the bet / challenge! From the honorable @SayMeBott who challenged me to finish scene 9 by March 24! Today is 23, I hope you are proud of me! :P I salute you dear friend and the best voice actor of all! :)
What do you think about it, @Cyberdevil, @AzureDragoonGX, @ChordC, @MariogD, @SayMeBott, @Colizza, @XavierDalton, @MATRVG, @uncookboi, @adr3-n? I remind you comrades (Crew) that you have access to the project view and you can familiarize yourself with the new scene!