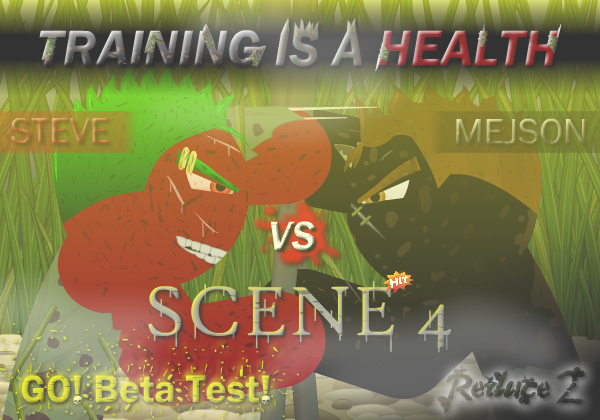 Hello everyone (my fans and not only) :P
This time, I have only one scene for you... but it's an interesting and thrilling episode :)
Training is health... but how do you see it's not always...
Scene 1 - "The nightmares"

Nightmares... an inseparable aspect of life. They always chase us and don't let sleep at night... They are the epitome of our stress, doubts and past events... They won't stop haunting us until we close some issues from the past or we organize our lives. Nightmares often affect people who have something on their conscience, unless someone has no conscience...

Scene 2 - "The matched duo"

Matched duo... there is always better with company. It doesn't matter whether you are super fast... extraordinary strong... or you have the eyes of a falcon... sooner or later will happen that the cruel beast of reality will dump you from the saddle... and if you go through life alone then it finally going to destroy you... Therefore, never forget what friendship is - it will never let you down...

Scene 3 - "It's raining..."

It's raining... it's better not to go outside. Nothing can be done with the mother's nature rage... neither haste nor perfect equipment of the backpack or experience will not protect against the treacherous weather. It always starts inconspicuously... and deceives with its initial delicacy... then to attack with a full fury - crushing everything on its way... therefore it's better to patiently wait...

Scene 4 - "Training is a health..."

Training is a health... this isn't up for discussion... Excellent condition and strength are essential to survival in an cruel and harsh environment. When you run out of breath and your temples are pulsating intensively from tiredness, then you realize that you weren't ready for this... but it is already too late... Adversities will not wait until you draw air - only crush you immediately... so take care of your health...
What do you think about this scene... this time? :)