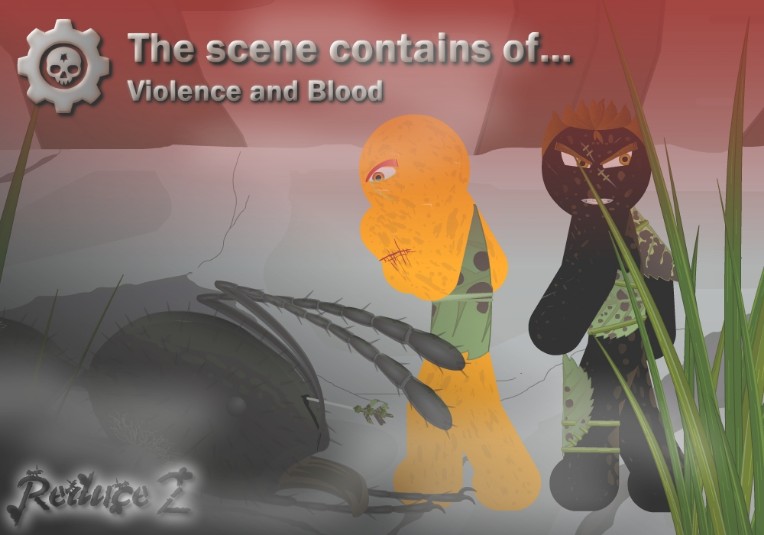 Hello everyone,
the newest version of scene 9 and it's events (individual moments):
(First frame) Mejson, Delsin (he is armed with a spear), Steve (he has his knife) are going left (Delsin goes first).
(Second frame) Candy, God-DL and MariogD are riding on an ant. MariogD asks God-DL: "It's comfortable?" and smiles at him friendly. God-DL nods in reply.
(Third frame) Delsin stops companions (Mejson and Steve) with a hand gesture. The heroes are looking around suspiciously, Delsin crouches examining the ground. After a while, Mejson says: "It's quiet..." and Steve says: "Too quiet..." after which he pulls out his knife.
(Fourth frame) Suddenly, ant zombie lands (jumps down at ground) not far away. It's (with zoom) presented in a panoramic view.
(Fifth frame) Delisn and Steve stand (ready to action) in front of Mejson (Delsin holds with both hands a spear aimed at a threat). Suddenly, next to heroes, is runing Candy. People looks at him in surprise and Mejson asks anxiously: "What are you doing?", Candy doesn't react. Mejson says disturbed: "Candy...".
(Sixth frame) Candy approaches the ant and strokes it's head, and she doesn't move the feelers and suddenly grabs Candy by the forearm and does not let go. Candy screams (he has tears in his eyes) and tries to release (blood flies from his forearm). Mejson runs up and pulls him by the hand (he tries to free him) but the ant zombie is holding too strong. Suddenly, an arrow flies and digs into the ant's head. The ant zombie falls to the ground and Candy is free (he make a moan because the insect's body touche his wound when falls to ground). Mejson place his hand on shoulder Candy's to comfort him, next - Mejson turn his head slowly and says: "Thanks".
We have this part ready and currently this scene lasts 35 seconds :), so I think that this epizode is pretty good and will certainly continues much longer than the previous ones.
For now I don't have a battle plan and I will be happy to use your detailed ideas. :P :P :P Feel free and shoot ideas!!!
Events that will be at the end of the scene:
the heroes win for a moment, and then a lot of ants appear, Mejson screams: "Retreat!".
Steve is having a great time and isn't going to run away...
suddenly the ants catch Steve and nowbody can't help him anymore...
Candy's ant is bitten in the back leg by a ant zombie and next - Candy's pet grab him in his jaws and fast escape.
Mejson yells: "No!" MariogD shakes him and shouts: "We must escape!"
everyone is withdrawing...
Unfortunately, there is no way to create a sound: "Steve!" for Mejson. :/
Regards,
Mejson