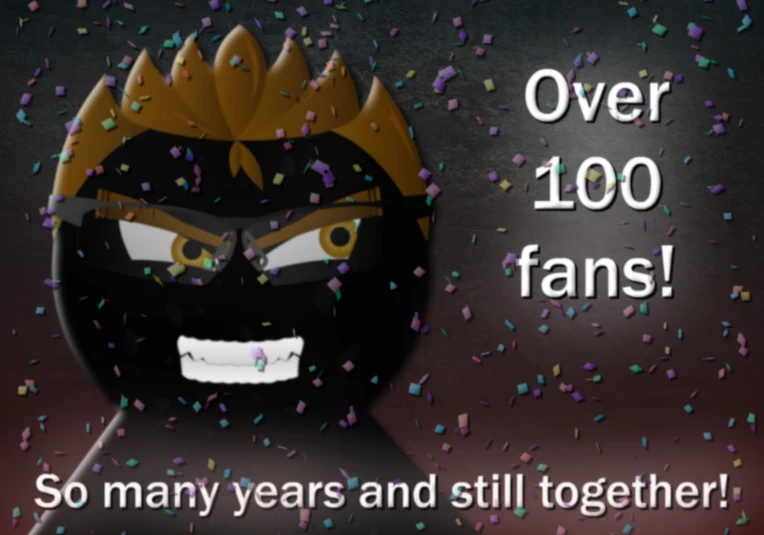 Welcome everyone!
It's been a month since the last Poster... well, lately I have a lot of work in the office and I haven't finish planning Scene 12 yet... You know, sometimes it happens, and you can't do nothing. However, let's get to the specifics, because there is no need to extend it too long. XD
The first (which you probably noticed) is the official information about reaching (exceeding) the magic number of 100 fans! Over 100 fans! - as in the title Poster! We waited a long time for such a result, but it's now! So many years and still together! Thank you very much to everyone who contributed to this result! And I'm glad we've been together on NG for so long! Together we are invincible! And remember that: FLASH WILL NEVER DIE WHILE WE'RE ALIVE!
Here you can leave a memorable comment on the equally memorable Art:
Thanks especially to the entire NG team and their support! It is thanks to them that this gigantic portal can exist! Thank you! Also, I would like to thank all the fans who have always motivated and supported us and helped (help) in the implementation of interesting projects. Still with us fascinating and amazing people: @MariogD, @Animetion24, @ChordC, @Cyberdevil, @Mazurek, @Plasmarift, @Rashty92, @SayMeBott and @ZipSquad! Thank you friends for being with me for so long! And especially: @Animetion24! It is a pity that not all of them stayed with us that long... I hope they are well.
Probably the most pressing and interesting news for our team is, "What's going on with the Scene 12 planning?". I'm in a hurry to explain :) Well, it turned out that the scene required a lot of mutual thoughts and corrections with the team. It can be said that planning is divided into two parts: the launch of the rebellion by Keni, and the next spectacular and long fight - Mejson vs Keni!
Currently: we are working on planning the fight, it is not easy, especially since the fight itself will be exciting and long enough - to satisfy all emotions related to this fight. Therefore, I believe that it cannot be too short, of course remembering not to be boring and repetitive! I hope I calmed you down :) All right, let me tell you that we are currently writing the 38th point of this scene, so... XD I know, the description of this scene is going to be long, but actually the action is going to be fast.
What do you think about it, @Cyberdevil, @Animetion24, @ChordC, @MariogD, @SayMeBott?
Regards,
Mejson