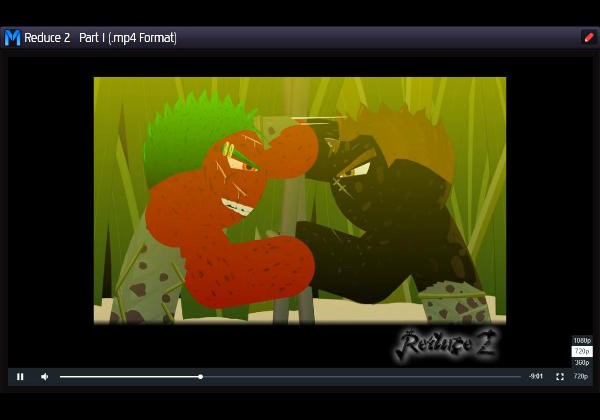 Welcome everyone!
New Poster! It's high time :P As you've noticed about a slightly different subject... it's a return to the past, to almost the beginning of our story... so let's started!
Well, as you know, due to the fact that the owners / creators of Adobe and Windows abandoned us / treated us brazenly, I decided that we will also put our animations (on NG) in the .mp4 format. I think it's a pretty cool idea and it will allow us to get fans / viewers back... it will be our revival! Our resurrection! :P
So let's start at the beginning:

As you can see (in the above excerpt / screen), I proposed the following information:
icon - this is the icon that shows that it is a .mp4 version,
title - main title, containing information about .mp4 format (do you think it's the best?),
short description - what should be here? What is currently not quite suitable for me.

As you can see (above) I already managed to convert the 'swf' files (yes, files) to 'mp4' (I bought quite an expensive program for this, but it's worth it). A quite unexpected situation turned out... I didn't expect it to be possible on NG, but yes... you can have several versions of the same movie in one project. In real time (while watching a movie) you can change the version (quality) of the movie you are watching:
360p - 1000x700 - 10:05 (304MB) - very fast, but poor quality (standard size of animation),
720p - 1296x996 - 11:38 (488MB) - bit slower, but better quality (good compromise),
1080p - 1480x1180 - 13:00 (620MB) - slow, but best quality (amazing high quality).
Commentary - main comment (@Animetion24 and @Cyberdevil):
information that this is an .mp4 (format) version with the justification that this project was created because it's impossible (it's very difficult) to view the animation in swf format,
some information about what happened earlier in our history,
information like the fragment above - what this part concerns, etc.,
information that the video is converted to different resolutions (360p, 720p and 1080p) to choose from and we recommend 720p,
thanks to the entire team,
should we link to previous animations? As in the original Reduce 2 - Part I?
What do you think about it, @Cyberdevil, @Animetion24, @ChordC, @MariogD, @SayMeBott, @Mazurek and Rashty92?
Regards,
Mejson