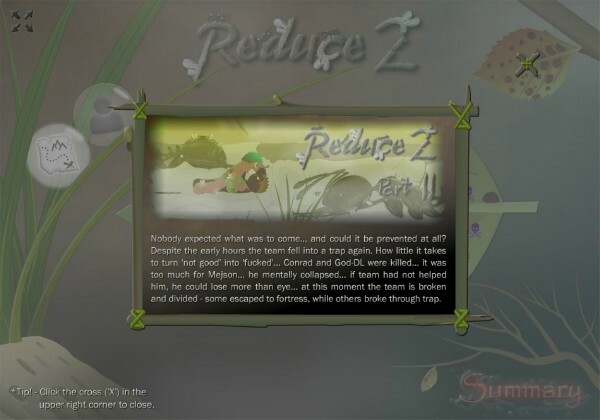 Welcome everyone!
You can still check Map description :) Verification help is sure to reveal any grammatical errors. XD
This time also you can both check it in the project view (NG Player) and by downloading the .exe file.
In 'Map' you will be presented with a map 'drawn' by the characters, with marked locations for all events that took place throughout the 'Reduce Saga', along with the opportunity to see photos at any given moment in history (or: from special moments in history). Also the death of the heroes (at these places).
This's also a specific situation because there is specified space for text and you cannot freely type in a longer description... (as seen in the screen):
Map_Info_1:
This's the beginning of the story... being abandoned in an empty mayonnaise jar just to wake up in an unfamiliar place and to be surrounded by wild nature... fortunately there are always friends who care about you. Mejson was lucky because his younger brother - MariogD - took care of him. Thanks to brother Mejson's story didn't end before it began. It's worth having someone you can rely on...
Map_Info_2:
The moment of enjoyment... finding your companions and warming up by the fire is the best what we have. At last a moment of respite, an opportunity to heal wounds and dress yourself with simple, primitive materials (because only such materials can be found in the area). Time to think about next steps. The first thought in your head is to survive... unfortunately, not everyone managed to survive... poor Jimmy...
Map_Info_3:
The huge obstacle in the form of a mantis forced the heroes to rethink the steps. The first time they spotted such big and dangerous thing... this tragic situation was saved by the sacrifice of Jason. He immediately gave his life, so the rest could survive... This huge loss made the team very weak - physically and mentally. Moreover, Mejson lost a devoted friend and maybe even comrade-in-arms...
Map_Info_4:
The heroes decided to set up the camp, because the rain was inevitably approaching. Thanks to the ingenuity and strength of the team no one suffered. Mazurek's abilities as a handyman were revealed as well as Steve's extraordinary strength which must be reckoned with... Mejson found out about it during the morning sparring with the mentioned "gentleman".
Map_Info_5:
Thanks to Candy's pure heart he can tame any good creature (in this case - an ant). The team either moved faster, but also had a bigger chance of overcoming the next obstacle... the stairs. The only disadvantage of having pet is that not everyone could ride it at the same time... and unfortunately some of the crew had to walk on their own feet. Maybe Candy should tame a whole herd?
Map_Info_6:
Finally coveted support... fortress - a new home and greater security. Two separate groups of heroes found each other and doubled their chances of survival, because there's strength in numbers. Unfortunately... Równy won't find out because as a result of serious wounds he died in the hands of his best friend Zip who couldn't prevent it... it was a huge loss for Zip who was very distraught about it... but he tried not to show it.
Map_Info_7:
Ant zombies are an unprecedented threat. They didn't seem to be too dangerous where spotted in a small group but... as it turned out, they shouldn't be underestimated. Steve learned that the hard way (when they suddenly surrounded him)... Mejson didn't handle emotion when his friend died and next he stood like walled up... and only the interference of MariogD restored his clarity of mind.
Map_Info_8:
Nobody expected what was to come... and could it be prevented at all? Despite the early hours the team fell into a trap again. How little it takes to turn 'not good' into 'fucked'... Conrad and God-DL were killed... it was too much for Mejson... he mentally collapsed... if team had not helped him, he could lose more than eye... at this moment the team is broken and divided - some escaped to fortress, while others broke through trap.
Map_Info_9:
A group of heroes, who managed to break through the trap, reached the door, which was carefully secured against unwanted guests. The only sensible solution that came to the minds of heroes was to go through the keyhole. First they tried to get there on the tamed ant, but it was too injured to climb. Voracious beast - a caterpillar - turned out to be the best solution. it can be the perfect transport, if properly motivated.
Map_Info_10:
A group of heroes who had to retreat probably will look for the best hideout from the enraged ant zombies... where will they find suitable shelter? Will the fortress provide them safety? Or maybe they will have to go back to the tall grass? This path requires using the rope to rappel down the stairs... Everything will turn out in a special story expansion - Reduce 2 - Pass of Time. Look forward this movie in the future!
I have no idea how these deaths should be determined so I did (Maybe you have any other ideas for this descriptions?):
Hero_Lost_1:
They lost devoted friend - Jimmy...
Hero_Lost_2:
They lost impulsive guy - Jason...
Hero_Lost_3:
They lost decent man - Równy...
Hero_Lost_4:
They lost crazy (but good) dude - Steve...
Hero_Lost_5:
They lost best archer - Conrad...
Hero_Lost_6:
They lost new companion - God-DL...
@Cyberdevil, @Animetion24, what do you think about it?
PS.
Mazurek has already recorded (to Mazurek) and also Zip (to Zip) - they did it amazing!
I'm still waiting for Plasmarift (He's recording 4 characters, so it will take him a while or he hasn't been to NG since Sunday). :P